Once upon a time in Black Entrepreneur History lived an African American man named Clarence W. Wigington, and he became the first Black Architect in the state of Minnesota in the USA, responsible for over 60 buildings still standing today.
---
Birth and Education
Clarence Wesley Wigington was born April 21, 1883 in Lawrence, Kansas but was raised from an early age in Omaha, Nebraska. He was born to parents Wesley Wigington and Jennie Roberts (Wigington) and was raised with nine siblings.
While in high school he loved art, and because of his love for it and unique skill, he excelled. After graduation, he went to work with Thomas R. Kimball's prestigious Omaha firm. During this time, he met a woman named Viola Williams, and they married on July 8, 1908[1].
Though in married bliss, his career wasn't because the job at the architectural firm didn't provide for him what he needed as a Black man in the industry. He had higher aspirations.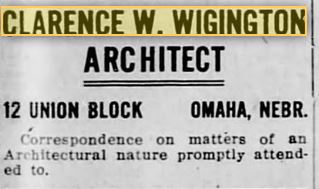 Therefore, in 1914, Clarence moved to St. Paul, Minnesota, to live at 582 Rondo Street, where he continued in architecture.
Upon arrival soon after, Wigington sat to take the city civil service examination for architectural draughtsman during the month of May in 1915. Out of all the other 40 applicants who took the examination at that time, Clarence W. Wigington made the highest score – 84.78.
After passing the exam, the city gave him temporary appointment on June 25th and by September 2nd, he was permanently appointed as the city architect, making him the first Black architect in the state of Minnesota as well as the first Black municipal architect in the United States of America[2].
(To the left)Clarence W. Washington advertising his services in the 
Franklin's Paper the Statesman (Denver, Colorado) 01 Apr 1911, Sat
Some time after becoming the city's architect, he stayed for some months in Davenport, Iowa where he worked for the largest home builders in the world at that time – Gordon Van Tine Co. He stopped working there on his own accord to return back to St. Paul, with his family following weeks later, to hold the highest position at the architectural department with the home builder T. D. McAnulty.
Upon leaving Iowa for the position in St. Paul, he had received an outstanding recommendation from Gordon Van Tine Co stating that "he has turned out some of the best and finest looking drawings that have ever been done in this office.[3]"
Clarence W. Wigington Founds His Own Architectural Firm
In 1922, being the oldest senior architect in the Department of Public Buildings, Clarence W. Wigington tendered his resignation in August in order to go into business for himself with is own private firm which he named The Complete Service Co. architects and engineers. This led him to have control over $200,000 worth of contracts, from churches to residents such as[4]:
Dale and Ashland family apartment
Selby and Pierce large apartment building
St. James A. M. E. Church
Memorial Baptist Church
Sterling Club (to which he is one of the founders)
St. Phillips Episcopal Church in Minneapolis
He is responsible for numerous buildings in the United States and 60 buildings preserved and still standing in St. Paul, Minnesota. He was finally more recognized in the state when the Harriet Island Pavilion that he designed and built in 1941 was renamed after him as the Wigington Pavilion.
Some of his designs are listed below:
National Religious Training School (Durham, North Carolina)
park buildings
playgrounds
1928 – Highland Park Water Tower (which is a Nationally Registered Historic Place in America; southern European style, octagonal shape; 134 feet tall)
1939 -Holman Field Administration Building (which is a Nationally Registered Historic Place in America)
1941 -Harriet Island Pavilion (which is a Nationally Registered Historic Place in America)
Como Park Elementary School (style classical revival)
Roy Wilkins Auditorium (Modern Style)
Homecroft Elementary School (Roman Renaissance style, topped with busts of children)
1939 – Horace Mann Elementary School
Ice Palace for 1937 St. Paul Winter Carnival (30,000 blocks of ice was located in front of State Capitol)
Ice Palace for Como Park in 1940 (had it's own post office so visitors could have their ice postcards stamped)[5]
Wigington literally shaped the city's infrastructure, and was an expert in designing buildings with ice while being said to have designed more ice buildings than any other architect ever. He was even known to refer to his ice designs as "his babies" which shown his fondness of them.

Founder and Captain of Home Guards & Sterling Club
Clarence W. Wigington was also lead founder of the Home Guards, a company of Black soldiers, in April of 1918 which was split into two companies, A and B, 16th Battalion, Minnesota Home Guards. Because of his leadership, Clarence was made captain of the Home Guards which is where his nickname "Cap" was born – Clarence W. "Cap" Wigington[6]. He'd began petitioning for the Black soldiers to the Minnesota governor in 1916 in order that they could serve in World War I.
He was charter member/founder of the Sterling Club which was a black male social and civic group. He designed the Sterling Clubhouse.
Death
Clarence W. Wignington passed away on July 7, 1967 at Menorah Medical Center and was buried at Lincoln Cemetery. He was a member of St. Augustine's Episcopal Church, along with is wife Viola L. Williams Wigington and children[7].
Honors
He was considered one of America's foremost architects[8]. There is an exhibit devoted to his work at the Weisman Art Museum called Clarence "Cap" Wigington: An Architectural Legacy in Ice and Stone[9].
He was a member of the American Institute of Architects in St. Paul.
---
Sources:
State Library and Archives, Nebraska State Historical Society; Lincoln, Nebraska; Nebraska, Marriage Records
The Appeal (Saint Paul, Minnesota),18 Sep 1915, Sat Page 3
The Appeal (Saint Paul, Minnesota)09 Jun 1917, Sat Page 3
The Appeal (Saint Paul, Minnesota)12 Aug 1922, Sat Page 3
Star Tribune (Minneapolis, Minnesota)03 Dec 2000, Sun Page 108
The Appeal (Saint Paul, Minnesota)13 Apr 1918, Sat Page 3
The Kansas City Star (Kansas City, Missouri) 09 Jul 1967, Sun Page 17
California Eagle (Los Angeles, California) 20 Jan 1949, Thu Page 10
Star Tribune (Minneapolis, Minnesota)03 Dec 2000, Sun Page 89 Page 7