Once upon a time in Black Entrepreneur History was an African American man named Jesse Binga who ended up founding the first privately and state black-owned bank in the northern USA – Binga Bank – in the midst of vicious white attacks against him, his home and business because of his prosperity.
---
Jesse Binga was born on April 10, 1865 in Detroit, Michigan as the son of father and barbershop owner William Binga and mother Adelphia (Adoelphe) Binga. His parents also worked in real estate, his mother being the builder1, which is were he learned real estate through assisting her2. His mother was responsible for what is known as Binga Rows which stood in Detroit4 to house formerly enslaved who were migrating to the North. They were located on Hastings, Rowine and Grove Streets. Not only did his mother build Binga Rows, but she was responsible for the very first consignment of white fish ever sent down in the southern states as well as the first shipment of sweet potatoes to get to the Gogebic Iron region of Michigan4.
This one of ten children, Jesse Binga he left high school, he moved to Chicago, Cook County, Illinois in 1901, becoming a entrepreneur by selling food and more in his own street side business and as a huckster. Later, it would be that the same residential areas to which he sold food in his early days would be the same properties that he would own. One thing he took pride in is that he never borrowed any money from anyone, having left Detroit with only ten dollars to end up amassing a fortune4.
Jesse Binga's Life & Businesses In Chicago, Illinois
After marrying his first wife, Frances Scott, on April 14, 1885, having a son and divorcing a short time after, Jesse Binga went all in with real estate. After getting to Chicago, it was in the early 1900s that he started a real estate business called J.C. Binga & Co. He started the business with barely any capital, but because he was determined, he began making money immediately from this new business which was located at 3333 South State Street. After he started earning a good living, he leased the Bates Building which was located on the same street and moved J.C. Binga & Co. there, causing white business owners to move out3 because they did not want to be in the same location as a Black real estate investor.
From there, Binga continued earning money as a real estate investor, buying inexpensive, run down properties, renovating them himself, with his own hands and know how, from plumbing to digging holes and hanging wall paper, to house a population of African Americans who were moving from the South. Soon he was able to hire workers, but before then, he did all the renovations himself4.
Because he was able to buy so much property, white people moved out of the area and were beginning to get frustrated that black people were not only moving in, but it was a black man who was making it possible. Black people ended up living from State Street all the way to Michigan Avenue because of the efforts of Jesse Binga. His rentals raked him in approximately $5500 a month, which is about $84,000 a month, in today's dollar.
When white people move away from communities due to Black people moving in, this action is commonly known as "white flight".
Jesse Binga Opens BINGA BANK
It was 1908 when he opened the first black-owned, private bank in the North – Binga Bank. (There were already black-owned banks in the South) With the purchase of this financial institution, Jesse Binga was able to claim more footage on State Street "than any other man, black or white, in the city2", according to The Black Dispatch of 1932.
In 1910, he owned his own home at the age of 45, and as a roommate he had a man by the name of WM Riley who worked with him as a real estate agent, according to the census.
Jesse Binga Remarries and Transforms Privately Owned Binga Bank Into Binga State Bank
Soon, he was able to buy another brand new home and marry to 2nd wife Eudora Johnson in 1912, an entrepreneur who inherited $200,000 from her deceased brother who was known as the gambling king of the area- John "Mushmouth" Johnson. She was the daughter of salon keeper and property owner John Johnson and mother Ellen. Together, the couple paid over $700,000 in taxes3 on real estate they owned which is equivalent to over 1 million dollars.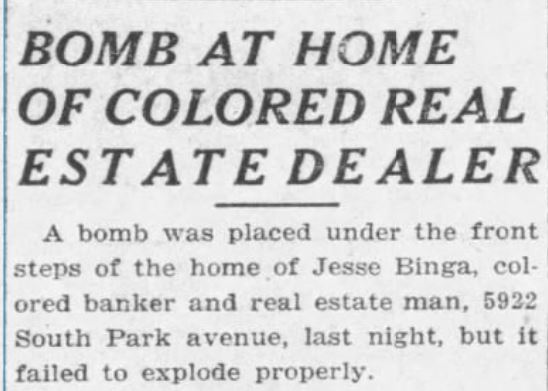 The home they purchased was in an all white neighborhood, and it made the neighbors nervous and angry because Binga was black and wealthy. From there, he and his wife along with their properties began to be threatened in the worst possible ways, having been bombed six times and his businesses twice.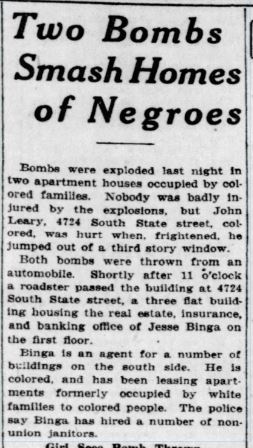 Their status was in the upper class of society, so much so, that they even had a maid by the name of Hattie Williams, according to the 1920 census when they lived on South Park Avenue. Racists hated that he moved into what they considered their neighborhood, and they wanted him out. He was the most hated Black man by white people in Chicago at that time due to his wealth and ability.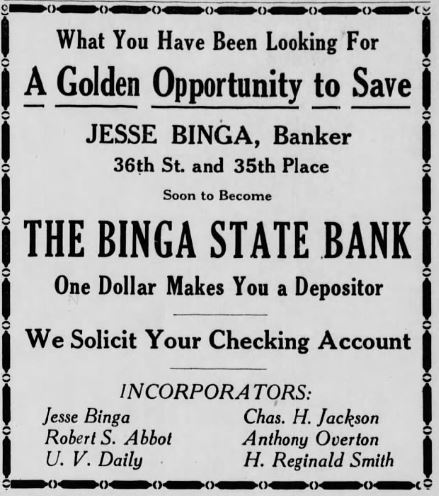 In 1921, Binga transformed the private Binga Bank into the newly founded the first black-owned state chartered Binga State Bank3, and he catered to only black people because white people mistreated and excluded them at their banks, which means they couldn't build wealth via the white owned financial institutions. This was a niche that Jesse Binga took over. Now, this bank was located where his real estate business was once located in a three story brick building that he had erected himself at State and 36th Place3. By 1924, the Binga State Bank had deposits of over 1 million dollars which is approximately 17 million today4.
Jesse Binga Quotes
Jesse Binga had become so famous, that he even had his sayings printed in the St. Paul Echo of 1927. Some of his sayings printed were:
Learn a business – and then mind it.
Save, save, save and when you've got it then give, give, give.
Learn something not so you know about it but so you know it.
Life is pretty much what you make it and making it big means using everyday of it.
Nothing is so easy or so wasteful as the work of hating – except hating work. And that goes for races as well as for individuals.
You can be a menial or a man of business. But to get out of the menial place requires the thrift that produces property, and property enlarges life. Work, then not for gain alone, but for the enlarged life that honest gains create.
He also stated that one of the greatest assets he had was "the disposition of the average white man to underestimate my knowledge of real estate values. They wouldn't believe that a colored man could take almost any old building and whip it into shape."
He didn't ever and would never bring himself into racism and hatred, but he did fight for his own race, believing that Black people should have their own everything, banks and other businesses, never waiting on the white man to give him anything, whether or not it is given in good nature.
The Binga State Bank was very successful until the Great Depression. Binga continued on with his ventures, however, because people everywhere were being hit hard financially because of the stock market tumble, many were not able to pay their debts to him or rent. Not only could they not pay Binga, Jesse Binga couldn't pay the state what he owned for the bank. This led to the bank's foreclosure in 1930. The bank's closure hit the African American community on the Southside of Chicago hard.
See photos with a click below:
Afterwards, he was accused, arrested and charged with embezzlement of $300K with four other employees arrested and accused of conspiracy6 . He was arrested in his home where he had been sick for some time and could not amass $10,000 for his bail money.
Rumors began to fly at his arrest. Some would charge the authorities were attempting to find anything illegal on him because of who he was and the ill-will they had toward the man who changed the lives of multiple black people, so much so, that even white people blamed him for their own angry riots. Binga ended up spending time in Joliet prison, and his wife passed away from a paralytic stroke in 1933 before he was released. During his first trial, he pled not guilty and his second trial, Binga pled guilty despite there being no evidence, as his defense attorneys stated to the judge, "that under the law, funds to be used for purchase of national bank stock could not be deposited in the state bank", therefore, "no evidence has been presented to show that Binga has embezzled the funds.7" The purpose of the funds was to start a national bank.
Upon his release from prison after serving three years7 for what was reported after her time served as $32K in the California Eagle of 1938, he worked a common job, no where near earning the money he did as an entrepreneur. He didn't want to be in the public light due to illness, distress and shame of what had happened to him and his world of success, although financial closures happened to just about everyone else at the time eventually. In his own words, he stated that "I was up against problems too big for me. I looked among the men of my race who helped me, but none of them had had as much experience in financial matters as I had. If the task was too big for me, it seemed to me that it would be too big for them. I was willing to relinquish control, but I thought it should be for better, not for worse.3"
In 1940, he was living as a lodger in the home of a woman named Ida Laws and her adult daughter. In 1941, he was granted a pardon for crimes in which he was accused. He passed away on June 13, 1950 and buried in the same cemetery where his wife lay – Oak Woods Cemetery in Chicago, Cook County, Illinois.
---
Sources
The St. Paul Echo 28 May 1927, Sat · Page 1
The Black Dispatch 16 Apr 1932, Sat · Page 7
The Broad Ax 23 Dec 1922, Sat · Page 12
The St. Paul Echo 28 May 1927, Sat · Page 1-2
Newspaper Clipping Bomb at Home of Colored Real Estate Dealer – Chicago Tribune 04 Dec 1919, Thu · Page 19
The Black Dispatch 12 Mar 1931, Thu · Page 1
California Eagle 03 Mar 1938, Thu · Page 1
Year: 1930; Census Place: Chicago, Cook, Illinois; Page: 21A; Enumeration District: 0195; FHL microfilm: 2340157
Year: 1880; Census Place: Detroit, Wayne, Michigan; Roll: 612; Page: 318D; Enumeration District: 28
Year: 1920; Census Place: Chicago, Cook (Chicago), Illinois; Roll: T625_310; Page: 2B; Enumeration District: 370
Ancestry.com. U.S., Find A Grave Index, 1600s-Current [database on-line]. Provo, UT, USA: Ancestry.com Operations, Inc., 2012.
Year: 1940; Census Place: Chicago, Cook, Illinois; Roll: m-t0627-00930; Page: 4B; Enumeration District: 103-319
Find a Grave, database and images (https://www.findagrave.com : accessed 05 October 2020), memorial page for Jesse C. Binga (10 Apr 1865–13 Jun 1950), Find a Grave Memorial no. 98760439, citing Oak Woods Cemetery, Chicago, Cook County, Illinois, USA ; Maintained by C. Rae White (contributor 47946084) .