Once upon a time in Black Entrepreneur History was an African American woman named Marjorie Joyner who, as a teenager, began her path into the world of cosmetology to end up owning her own beauty salon, co-founding the United Beauty School Owners and Teachers Association and inventing, with a patent, the Permanent Wave Machine to make curling and straightening women's hair easier. She was one of the first Black women to receive a US Patent.
Wed, Feb 20, 1985 – 126 · Chicago Tribune (Chicago, Illinois) · Newspapers.com
Marjorie Stewart (Joyner) was born on October 24, 1896 to educator father George Emmanuel Stewart and mother Annie Daugherty Stewart, a wage earning housekeeper, in Monterey, Virginia.
Her parents divorced, and by the time she was 13, according to the 1910 census, she was living with her mother and older sister, Mary, in Chicago, Illinois. While there, she enrolled and attended to study cosmetology at A.B. Molar Beauty School, graduating in 1916.
She was the 1st African American to graduate from A.B. Molar Beauty School. This was the year she became a professionally, licensed cosmetologist. It was also the year she married her husband, Robert E Joyner, a podiatrist. She was 19 years old and he was 21.[1]
In that same year of 1916, she became an entrepreneur, opening her own beauty salon – Marjorie Beauty Shop. It wasn't long before she was interacting with and learning under beauty and cosmetology business mogul Madam C.J. Walker.
Sun, Feb 8, 1987 – 17 · The News and Observer (Raleigh, North Carolina) · Newspapers.com
It was under Madam C.J. Walker that whatever she learned in A.B. Molar Beauty School increased ten fold. She began to learn many aspects of running campaigns, sales and even coaching.
She was a Madam C.J. Walker salesperson, trained and educated up and coming cosmetologists and was National Advisor to 200 of Madam C.J. Walker's beauty schools.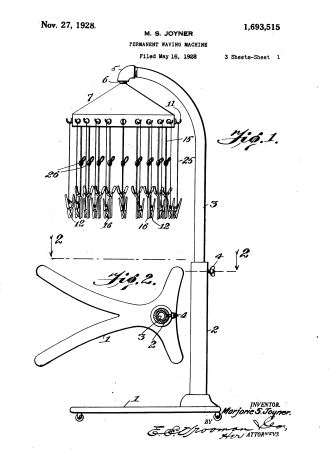 It was on November 27, 1928 that she invented and patented what is known as the Permanent Wave Design Machine. which made it much easier for woman, both black and white, to straighten and curl their hair, and she completed the design for the machine with a scalp protector. Due to the fact that she was working with Madam C.J. Walker at the time of the invention, credit was given to Walker.
In the midst of all of this success, Joyner also ended up a celebrity stylist for such names as Billie Holiday and Marian Anderson.
Not only was Joyner involved as a stylist, but she also organized with Robert S. Abbott, founder of the Chicago Defender, the first Bud Billiken Day Parade (1929) to which she remained director of the parade for 6 decades as chairwoman of the Chicago Defender Charities.[2]
She was also involved politically when she helped develop and write the cosmetology laws for the state of Illinois in 1940. Not only that, she was an advocate for education and philanthropy when she founded the Alpha Chi Pi Omega sorority and fraternity on October 17, 1945 . The co-founders were Mary McLeod Bethune and Congressman William Dawson. Alpha Chi Pi Omega was established to empower cosmetologists and beauty professionals with the promotion of the beauty industry nationally and internationally.[3]
It was in 1945 that she co-founded with Mary McLeod Bethune, founder of Bethune-Cookman College, the United Beauty School Owners and Teachers Association, which was for African Americans.
Marjorie Joyner knew all about racism and Jim Crow laws which was another reason for her push for her empowerment of Black people. She proved in her own life the horrible cloud that racism brought to African Americans when she described not being able to sit on the train because there was no Black section. Therefore, in order to make her speaking engagement, the train men sat her next to a casket in the baggage car.
"They talk about Rosa Parks having to sit in the back of a bus in Montgomery, Alabama. Well, how would you like to ride all night in a baggage car with a corpse?" – Marjorie Joyner

Chicago Tribune, 29 December 1994 Thursday, page 33 (Her Newspaper Obituary recalling an interview from 1897)
"There's not an ounce of hatred or animosity in my heart," says Ms. Joyner who was special guest… at the National Museum of African American History.

The quote from The News and Observer, Raleigh, NC 08 February 1987 Sunday
In 1973, she graduated from Bethune-Cookman College with a Bachelor's in Psychology.
Fri, Nov 3, 1989 – 46 · Chicago Tribune (Chicago, Illinois) · Newspapers.com
Joyner was awarded over 300 plaques, diplomas and citations for her philanthropy and giving back to children and the African American community for most of her life, before dying at her home in Southside Chicago at the age of 98 on December 27, 1994 due to heart failure.

---
Sources
[1]Ancestry.com. Cook County, Illinois Marriage Indexes, 1912-1942 [database on-line]. Provo, UT, USA: Ancestry.com Operations, Inc., 2011.
[2]Chicago Tribune; Publication Date: 29 Dec 1994; Publication Place: Chicago, Illinois, United States of America; URL: https://www.newspapers.com/image/167108729/?article=d8b47e5f-6d64-41c5-a97b-4791c9c65b58&focus=0.17649426,0.049623005,0.49621683,0.34143782&xid=3355
[3]Alpha Chi Pi Omega Chicago Chapter
Year: 1940; Census Place: Chicago, Cook, Illinois; Roll: m-t0627-00930; Page: 16B; Enumeration District: 103-313
Year: 1930; Census Place: Chicago, Cook, Illinois; Page: 15B; Enumeration District: 0189; FHL microfilm: 2340157
Year: 1910; Census Place: Chicago Ward 30, Cook, Illinois; Roll: T624_276; Page: 9A; Enumeration District: 1316; FHL microfilm: 1374289