Once upon a time in Black Entrepreneur History there was an African American man named Victor Hugo Green who became an author and black business owner when he wrote and published The Negro Motorist Green Book, making way for the founding of his publishing office and travel agency.
Born in Manhattan, NY on November 9, 1892 to parents William H. Green and Alice A. Holmes, Victor Hugo Green was a young boy who grew up in Hackensack, New Jersey, but only got as far as a 7th grade education[1].
By the time he was a young adult, Victor was working for the US Government at the Post Office as a Letter Carrier. It was then, in 1916, that the young, single man had to register for the WW1 Draft while still in Hackensack, NJ.[2]
During this time, he'd met and fell in love with an African American lady who was two years older than he named Alma S. Duke. They married when he was 24 and she 26. It was then they decided to relocate to New York, Harlem specifically, the birthplace of the Harlem Renaissance.
However, approximately two years after their marriage, Victor was called off to war on June 30, 1918, departing to Hokoken, New Jersey and boarding the USS WWI Troop Transportation ship called President Grand as a Supply Sergeant of the Supply Company, 350 Field Artillery Military Unit, Item N. 92 Division.
When he returned home from serving, he continued his livelihood at the Post Office, still in Harlem, however, it was in 1936, after having encountered discrimination while on a road trip with is wife that he decided to write a book, detailing where African Americans should travel when on road trips. That book was published in 1936, and it was titled The Negro Motorist Green-Book.
The goal of the book was to serve African American travelers by notating where they should go to be treated fairly and decently without having doors slammed in their faces because they were Black due to segregation laws and Jim Crow laws.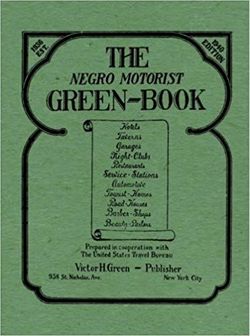 The Negro Motorist Green-Book's first edition listed only places in New York, from barbershops, hotels and tourist homes, drugstores and more that serviced African Americans. The book was released annually after having much success, so much success that the second issue went national. In future issues, he even included African American friendly establishments in Mexico and Bermuda.
In a 1940 The Green Book ad, there was a quote:
If you're traveling, you don't have to worry about accommodations – whether this place will take you in or that place will sell you food. That is if you're white and gentile. If you're not, you have to travel a careful route like seeking oases in a desert!"

The Leader-Post, Regina, Saskatchewan, Canada, 23 Nov 2018, Fri., Page C2
In 1947, he founded a Vacation Reservation Service, a travel agency and publishing office, and at his new business, he would book reservations at Black businesses for clientele.
The Green Book and his business was a huge success, however, he passed away in 1960, on October 16, to be buried in Hackensack Cemetery in Hackensack, New Jersey.
Because his wife worked with him, she was able to take over editing, keeping the business and book published annually until the Civil Rights Act of 1963 which led to desegregation. The Green Book was no longer necessary now that it had become law that Blacks and whites could eat and do business within the same walls with no separation.
Three years later, The Green Book was no longer published. The Green Book publications played a major part in the success and happiness of many African American travelers who would have otherwise had to search for safe venues while on the road with their families.
Sources
[1]Year: 1930; Census Place: Manhattan, New York, New York; Page: 5A; Enumeration District: 1000; FHL microfilm: 2341311
[2]Registration State: New Jersey; Registration County: Bergen County
Year: 1940; Census Place: New York, New York, New York; Roll: m-t0627-02670; Page: 14B; Enumeration District: 31-1904
The Leader-Post, Regina, Saskatchewan, Canada, 23 Nov 2018, Fri., Page C2
Find a Grave, database and images (https://www.findagrave.com : accessed 25 October 2020), memorial page for Victor Hugo Green (9 Nov 1892–16 Oct 1960), Find a Grave Memorial no. 196045545, citing Hackensack Cemetery, Hackensack, Bergen County, New Jersey, USA ; Maintained by Caroline Hoag (contributor 47311287) .