Once upon a time in Black Entrepreneur History lived an African American man named William B. Purvis who went on to become a serial inventor, inventing paper bag improvements, the fountain pen, hand stamp and even a close-conduit electric railway system.
---
William B. Purvis' Childhood
William B. Purvis was the grandchild of the wealthiest man, Black or White, in the city of Philadelphia named James Forten. Therefore, it can be established that he came from a very well off family with a strong business sense. His parents were Joseph and Sarah Louisa Forten Purvis, a poet and daughter of James Forten. William came from a family of Black excellence, his aunts and uncles known for their literary talents, real estate investments and more entrepreneurial endeavors.
Born in Philadelphia, Pennsylvania, his father was a farmer who was born in South Carolina while his mother was a writer. They lived on an estate worth $30000 [1], which in today's (2022) dollar is around $800,000. He was one of eight children. By the age of 19, his father had already passed away[2].
While a young man, William B. Purvis had a knack for wondering how things worked and creating, something he may have inherited from or been inspired to do by his famous grandfather. One can easily say, he followed in his grandfather's footsteps and became not only a businessman but a great inventor.
William B. Purvis' Fountain Pen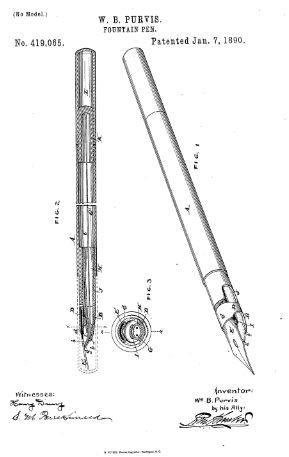 When William B. Purvis invented the fountain pen, it completely did away with the ink bottle of previous pens that needed to be dipped in order to place ink on paper. Purvis' pen was indeed an independent pen, and this was unlike any others. It was a pen that could be used for general use and by anyone being that it could be carried in your pocket.
This pen invention revolutionized writing around the United States of America and extended around the globe. As seen in the illustration, this is the model of the modern-day pen.
Purvis' pen was patented on January 7, 1890.
William B. Purvis' Electric Car System
William B. Purvis invented what was known in the year 1900 as A New Electric Car System, having no poles, open conduits, live third rail, danger nor overhead wires. The Electric Rail had been running throughout the winter at that time, so it was beyond the experimental state, and his invention brought groves of onlookers. This Electric Car System invented by Purvis is called a close conduit electric railway system which was much safer than the old system that was quite dangerous. This one was built with made with electromagnets in the center of the railcar and soft iron cables. The iron cables attract to the electromagnets with a strip of brass in between.
William B. Purvis placed the rail on exhibition at 1332 Chestnut Street for a demonstration of The Union Electric Construction Company's railroad system to which Purvis was President, located at 655 Bourse Building in Philadelphia. Being the exceptional businessman that he was, he offered treasury stock at $5 per share and $7.50 a share out of the 40,000 being offered[3].
William B. Purvis' Paper Bag Machine
Purvis was one of the Philadelphians who was awarded for their ingenuity in 1890 with the invention of his paper bag machine, but he had worked on this paper bag machine for many years prior. It was in 1884 that the Sterling Paper Bag Company was founded by Purvis, but it ended up shutting down the following year[4], despite the fact that his paper bag machine was able to make more paper bags at a greater volume than in the past. Because the Sterling Paper Bag Company went bankrupt, it decided to sell some of its paper bag patents to another company in order to settle debts.
William B. Purvis' Hand Stamp
Another great invention by William B. Purvis is the hand stamp seen to the left. Patented on February 27, 1883, US Patent #273149, Purvis' hand stamp came self-inking, combining a type-holder with inking device. These types of hand stamps are still being used today, and this was Purvis' reason for creating this hand stamp – for general, everyday use, and especially for postage stamp cancellation and dating envelopes.
There was no other stamping device like it.
Death of William B. Purvis

William B. Purvis passed away on August 10th of 1914 and was buried on August 13th and was buried at St. James the Less Episcopal Churchyard in Philadelphia. He died of a cerebral hemorrhage[5].
William B. Purvis' legacy is one of persistence and vision which breeds success, such as he did with one of his most notable inventions – the fountain pen and the hand stamp.
---
Sources:
Year: 1850; Census Place: Bensalem, Bucks, Pennsylvania; Roll: 759; Page: 73b
Year: 1860; Census Place: Bensalem, Bucks, Pennsylvania; Roll: M653_1082; Page: 47; Family History Library Film: 805082
The Philadelphia Inquirer (Philadelphia, Pennsylvania) 22 Apr 1900, Sun Page 11
The Kansas City Star (Kansas City, Missouri)08 Sep 1885, Tue Page 1
Pennsylvania Historic and Museum Commission; Harrisburg, PA; Pennsylvania (State). Death Certificates, 1906-1968; Certificate Number Range: 084171-087510