Born on approximately 1809 as an enslaved biracial (mulatto) boy in Adams County, Mississippi to an enslaved black woman named Amy and his assumed father, a white slave owner named William Johnson, William T. Johnson went on to become known as The Barber of Natchez, an African American entrepreneur.
Starting from the time William T. Johnson was freed by his slave owner father in 1820 at the age of eleven, he was well on his way to becoming an entrepreneur.
His sister, named Adelia, who had been freed in 1818 along with their mother, Amy, was freed four years prior, went on to marry a free black business man named James Miller who was a barber with his own barbershop. It was by apprenticing under his brother in law that William T. Johnson became a barber himself.
Soon, he ended up buying his brother in law's barbershop from underneath him in an expired lease. This move made him a business owner, purchasing the shop for $300. It is here in the city of Natchez, Mississippi where he became known as The Barber of Natchez.
As money began rolling in, he earned and saved a substantial amount of money, and wanted to start a family. Therefore, he met, dated and married a woman named Ann Battles. They had ten children together. The youngest child, Clarence, was born on the year of William's death.
With such a large family, it was good that William T. Johnson had a large house to make a home that he built from the bricks of other homes that had been destroyed by a tornado in 1840. The home was built in 1841.
Natchez, Mississippi was home to a community of free blacks, and this was where William T. Johnson's business thrived while growing his family, he also gave back to the community by teaching free black boys the skill of barbering.
Not only did he own a barbershop, but he also owned a bath house, bookstore and also and even real estate along with a 2000 acre plantation. Unfortunately, William T. Johnson was also a slave owner, fully documented in his dairies that he kept, 14 bound volumes of entries, where he wrote of his business of slave ownership and the enslaved of his property.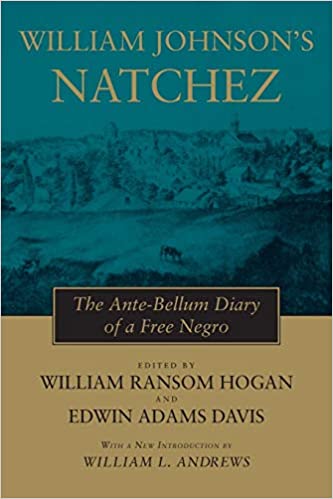 Much of his writings can be found for free at the Louisiana Digital Library or on Amazon where one can purchase the title William Johnson's Natchez which is edited by William Ransom Hogan and Edwin Adams Davis.
William T. Johnson wore in his diary from 1835 to the year of his death, 1851.
William T. Johnson was friends with the Winn family, a black family to which he was neighbors, according to Volume 18 of his diary. Somehow, William and his neighbor named Baylor Winn got into a boundary dispute to which ended up in court. Johnson won the dispute in court, however, later ended up murdered by Baylor Winn as a result.
Although there were witnesses to the murder, the witnesses were all black people and their testimony wouldn't stand against Winn. Sure, Winn was a black man, however, he had Indian ancestry and he claimed it as white.
No one in the court could disprove his claim that he was white, so he was set free for the murder of William T. Johnson because black people could not testify against a "white" man.
And so was the end of The Barber of Natchez.
His home still stands as a museum of his life on State Street in Natchez.