Once upon a time in Black Entrepreneur History was an African American woman named Zelda Barbour Wynn Valdes, born Zelda Christian Barbour, who became a BOSS in fashion as a designer, going on to design costumes for the Dance Theater of Harlem. She was also the creator of the famous Playboy Bunny costume.
Getting started in life, she was born June 28, 1905 in Chambersburg, Pennsylvania as daughter to James W. Barbour and Blanche M. Christian. All of them, including Zelda's younger brother who was born in 1907, living in the maternal grandparents' home – Royal and Minnie Christian. Zelda's aunts lived there as well.
By the time 1920 came, Zelda had six younger siblings, and she was the oldest. By this time, the family lived together in a home of their own, and Zelda was a student at Chambersburg High School. She completed her years there, graduated, and it was soon enough after her graduation that the entire family moved to New York.
While in White Plains, New York, Zelda met and fell in love with a man named Charlie Wynn. On November 1, 1927, she married him.
During this time, Zelda gained and held employment working and learning tailoring and sewing at a posh boutique. By the time she was 30 years old, she knew enough to open her own shop in the city of White Plains, NY.
By 1940, Zelda was already a widow, but a full fledged entrepreneur, listed as a self employed dressmaker on the census for that year. She was an excellent designer, and her skill became talk around all those who loved to look good and wear great fashion. This is how she built her clientele, and by 1948, she'd founded the first African American owned business located on Broadway – the Zelda Wynn dressmaking and design studio to which she would end up naming Chez Zelda when she moved her studio Midtown.
One can accurately say that Zelda Wynn was the fashion designer that the celebrities would come to in order to look their best, everyone from Eartha Kitt to Nat King Cole. Her designs had become so desired that they sold for over $1000 per gown. She was at the highest level, and everyone who was anyone wanted her personal designs as part of their posh affairs.
At this time, Zelda Wynn Valdes already had a crew of nine to get the requests for luxury attire done for elite entertainers. Even Hugh Hefner desired her skill, and this is when Zelda Wynn designed the Playboy Bunny costume, making the costume an African American creation and the 1st to get a commercial uniform patent.
Not only was Zelda Wynn a designer, but also an educator, teaching design and fabrics to youth. She was also an activist for the black community and African American fashion, making clothing that brought out the best looks for black people at all times.
For the latter part of her career, she designed for the Dance Theater of Harlem, creating costumes for approximately 80 shows.
Zelda Wynn Valdes passed away on September 26, 2001 at the age of 97, having devoted her life to fashion and not just fashion, but breaking glass ceilings for African Americans in fashion and design.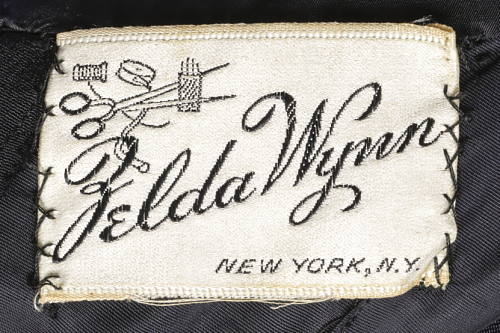 Sources
---
Ancestry.com. U.S., Social Security Applications and Claims Index, 1936-2007 [database on-line]. Provo, UT, USA: Ancestry.com Operations, Inc., 2015.
Year: 1910; Census Place: Chambersburg Ward 3, Franklin, Pennsylvania; Roll: T624_1347; Page: 6B; Enumeration District: 0008; FHL microfilm: 1375360
Year: 1920; Census Place: Chambersburg Ward 3, Franklin, Pennsylvania; Roll: T625_1571; Page: 6A; Enumeration District: 8
New York State Department of Health; Albany, NY, USA; New York State Marriage Index
Year: 1940; Census Place: Greenburgh, Westchester, New York; Roll: m-t0627-02804; Page: 9A; Enumeration District: 60-76
"U.S., School Yearbooks, 1880-2012"; School Name: Chambersburg High School; Year: 1922