Once upon a time in Black Entrepreneur History was an African American man named Paul Laurence Dunbar who became known as the most influential Black poet in American Literature.
---
Dunbar was born to former slaves Joshua and Matilda Jane Dunbar in Dayton, Ohio on June 27, 1872. His parents were born in Kentucky. Paul's father, Joshua, died, leaving Dunbar with just one parent – his mother.
Slavery had just ended years prior to his birth, and soon enough, he was the only African American child in his school classroom as a teenager in Dayton, Ohio. It was while in high school, Dunbar became a published poet, his poetry being printed in the Dayton Herald.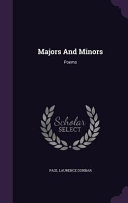 His writing continued, and those who heard it, enjoyed it due to its styles, marked specifically in his collection titled Majors and Minors. Dunbar separated his distinct styles of writing poetry within this collection. In the Majors, he wrote in standard English, but in the Minors, he wrote in English with a dialect. The latter made him famous.
His first novel was written in 1898 titled the Uncalled and there were a multitude of works in between before his last novel The Sport of the Gods in 1902 such as:
Candle-Lightin' Time
Poems of Cabin and Field
The Love of Landry
Lyrics of Hearthside
The Strength of Gideon and Other Stories
Paul Laurence Dunbar has a plethora of work prior to his first novel, detailing black life from various viewpoints. Much of the work regarded by white readers were his writings on comedy while the anti-racism writings were ignored. Much of his work had the attention of white readers.
As far as his love life, it was with the publication of his first novel in that same year, he got married.
Paul Laurence Dunbar married author, social reformist and teacher, Alice Ruth Dunbar in 1898, who later became a Nelson by remarriage when the couple separated in 1902. The marriage failed due to struggles with Paul's illnesses and domestic violence.
Dunbar's death followed four years later in 1906 due to his failing health from recurring bouts of pneumonia over the years. He died on February 9, 1906 at the age of 33 and buried in Woodland Cemetery in the place of his birth.
He is remembered and honored as the most influential black poet of American literature. One of his most famous poems Sympathy is still being used to teach middle and high school poetry in English classes.