Once upon a time in Black Entrepreneur History was born an African American man named William Sidney Pittman that started with barely nothing to rise to become one of the greatest African American architects in American history as well as the first African American graduate from all white Drexel University with an architectural degree.
---
Born in April 21, 1875 in Montgomery, Alabama to an African American mother who was a laundress and formerly enslaved and a white butcher who was biologically his father, William Sidney Pittman didn't have much as a child, but he dreamed of having all he desired by the time he was seventeen years old, especially with Tuskegee Institute, a school for African Americans, being approximately one hour away.
The Start and Completion of William Sidney Pittman's Architectural Excellence
At the age of 17, William enrolled in Tuskegee Institute's night school as a work student, and his work was impressive. He finished in 1897, having learned architectural drawing and woodwork. His work was so impressive, in fact, that Tuskegee paid for him to attend Drexel University, which was an all white school of higher education in Philadelphia and where he would be able to gain an accredited degree in architecture. In return for the full scholarship being given to William from Tuskegee Institute, he agreed to return to Tuskegee Institute and teach all he learned for five years as director of architecture[1]. This is exactly what he did, designing buildings on the campus of Tuskegee of average cost $250,000, which is worth approximately 8 million in 2020.
William Sidney Pittman graduated with full honors at Drexel and became the 1st African American to graduate from Drexel with a degree in architecture. He then moved back to Tuskegee and taught before moving to Washington D.C. where he opened his own architectural firm, going on to design multiple structures such as:
The Negro Building at the Jamestown Ter-Centennial Exposition – the 1st time a Black man's plans had been accepted by the government, according to the 1907 Baltimore Sun newspaper[3] The Ter-Centennial Exposition marked the 300 years since the founding of Jamestown from Englander colonists in Virginia. The African American exhibition in The Negro Building showed the history of Black people in America, brought from Africa up until that present day. [4] The entire event was to showcase military, science and technology and more that represented progress of the nation since its founding. [See The Negro Building designed by Pittman here]
Fairmount Heights (one of first municipalities incorporated by African Americans, and Pittman designed schools and buildings of the entire district, according to The Washington Post) [See Fairmount Heights Pictures here] It was basically Pittman's District.
The Pittman House (destroyed by arson in 2012)
Deanwood Chess House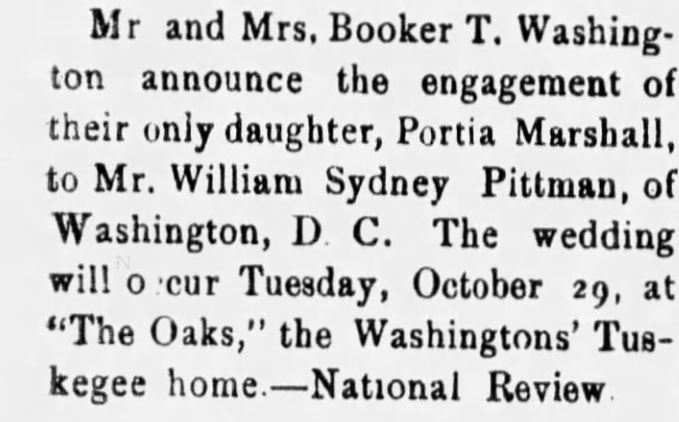 He left Washington D.C. to marry Booker T. Washington's daughter Portia Marshall Washington, becoming Booker's son-n-law. A full announcement was put in The Topeka Plaindealer via the National Review announcing:
"the engagement his daughter Portia Marshall to Mr. William Sidney Pittman of Washington D.C. The wedding will occur Tuesday, October 29 at "The Oaks", The Washington's Tuskegee Home."[2]
In 1910, the newly married couple moved to Kent, Prince George, Maryland on 61st Street, and soon after, they moved to the state of Texas in Dallas where they lived in a home that ended up burned in a fire in 1919. They rebuilt, and a large thank you to donators was put in the newspaper to those who monetarily supported the rebuilding of his home, the surprise collection of money led by his dear friend Mr. R. Lee Jones.[5] Most people who donated, donated $1.00 which is about $40 in 2020. They also donated clothing as well to the amount of $500 in 2020's monetary value.
In the published thank you was a scathing remark to those who felt the Pittmans were too wealthy to need help during his family's time of suffering, stating:
"Since their misfortune, Mr. and Mrs. Pittman have been given many proofs of the generous heartedness of the people of Dallas. While some have erroneously taken it upon themselves to presume that the Pittmans were beyond the needs and necessities of life by virtue of some mysterious reason, there have been many more whose hearts were touched and whose friendship justly impelled them to render what aid they could."[5]

The Dallas Express (Dallas, Texas) · 14 Feb 1920, Sat · Page 9
The rest of the published thank you listed the names of the people who donated and the amounts.
At this particular time of the burning of their home on 1018 Liberty Street in Dallas, the architect/ business owner and his wife had three children – William Sydney (1909), Booker T(1910) and their only daughter Fannie (1913).
After designing/building other structures as the Colored Carnegie Library in Houston( opened in1913) [See picture here] which was the only library in the city for African Americans and also designing The Knights of the Pythias Temple Lodge, he founded his own paper called The Brotherhood Eyes while also taking up carpentry. This was around the same time he and his wife separated.
The Brother Hood Eyes Newspaper Publication and William Sidney Pittman's Downward Spiral & Undiagnosed Depression
William Sidney Pittman had become extremely bitter at the lack complete recognition he received for any of the work he'd done over his lifetime, possibly due to the fact that much of his own work was credited back to Tuskegee and his father in law – the famous Booker T. Washington – also. He wasn't okay with living under his father in law's shadow because he was his own man. This bitterness he ended up releasing in The Brotherhood Eyes and was possibly the leading factor in him separating from his wife, Portia who went back to Alabama teach at Tuskegee.
The Brotherhood Eyes was described as a tabloid type newspaper covered in red ink on the front page, meant to grab attention with not only how it looked but what was described as the use of language that was "so vile that female stenographers and many spectators [in the courtroom at his arrest] either blushed or hung their heads in shame".[6]
Against Black leaders, teachers and preachers and many others of his own African American race, he launched attacks upon, giving his own opinion and standing on it, being in full disagreement with them. Of course, the community was outraged at what he was doing but he continued to wage his own verbal war in his publication.
It was in May 1936 that William Pittman was jailed "on charges preferred by officials of the Universal Life Insurance Company of Memphis." He was taken to court in a libel suit of $50,000 by the head of the Pythian Lodge in Lousiana for sending "obscene matter thought he mail, and blackmail and extortion, federal offenses." He remained in jail because he couldn't make bond of $3000.[6]
Latter Life As Hotel Manager & Death
On the 1940 census, although it appears that he was overtaken in depression and bitterness for years, he managed to pull himself back together to stand on his two feet as a hotel night manager at the age of 64. His marital status was divorced, and he, along with many others, lived in the hotel – The Powell Hotel – run and owned by a widowed, 46 year old African American man named David F. Powell who succeeded with determination and a 5th grade education.[7]
Eighteen years later, William Sidney Pittman died on March 14, 1958 in Dallas, Texas, declared deceased at Parkland Memorial Hospital and was buried in Glen Oaks Cemetery. He was 82. He passed away of a cerebral thrombosis, or blood clot in his head. [8]
Although he suffered a mental and emotional crisis of what seems to be undiagnosed depression in his later years, taking him down a path of self destruction, one cannot discount the substantial amount of credit he is definitely due over the course of his lifetime. Despite dying without the large amount of money he'd accumulated throughout his life, he at least was able to stand once again.
---
Sources
[1]The Montgomery Advertiser (Montgomery, Alabama) · 17 Oct 1993, Sun · Page 91
[2]The Topeka Plaindealer (Topeka, Kansas) · 27 Sep 1907, Fri · Page 3
[3]The Baltimore Sun (Baltimore, Maryland) · 30 Jun 1907, Sun · Page 14
[4]EncyclopediaVirginia.org
[5]The Dallas Express (Dallas, Texas) · 14 Feb 1920, Sat · Page 9
[6]The Detroit Tribune (Detroit, Michigan) · 30 May 1936, Sat · Page 1
[7]Year: 1940; Census Place: Dallas, Dallas, Texas; Roll: m-t0627-04175; Page: 81A; Enumeration District: 255-85
[8]The Dallas Public Library, Texas Archival Resources Online
Maryland-National Capital Park & Planning Commission
Year: 1910; Census Place: Kent, Prince George's, Maryland; Roll: T624_567; Page: 2A; Enumeration District: 0074; FHL microfilm: 1374580
Year: 1920; Census Place: Dallas Precinct 6, Dallas, Texas; Roll: T625_1791; Page: 9A; Enumeration District: 12
Photo of William Sidney Pittman from Wikipedia as public domain